New 2020 Ford Explorer Gets Design Updates Inside and Out
We love sharing the latest news about all the great Ford cars, trucks, and SUVs that come through our lots here at Smith Ford of Lowell. This includes news about the recent updates Ford has introduced to the 2020 Ford Explorer.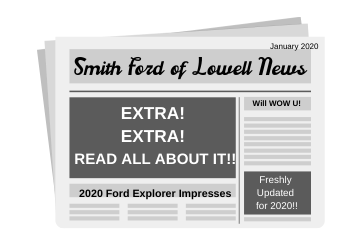 Updates are happening both inside and out, and our excitement shows both inside and out as well. By the way, if you're looking for Explorer for sale near me, you'll find it right here at the Lowell Ford dealers of Smith Ford.
Time sure flies when you're having fun and it's hard to believe that Ford is already on the sixth generation of the Explorer. A return to form is always welcome in these situations, and this popular SUV is returning to a rear-drive platform similar to that of the Ford Mustang. Options for horsepower are 300 hp up to 400 hp with a 10 speed automatic transmission available across all ten trim levels — yes, that's 10 trim levels. This transmission is a result of a collaboration between Ford Motor Company and General Motors.
Take a look at the Explorer ST which has a twin-turbocharged 3.0 liter V6 coming standard. This makes the 2020 Ford Explorer horsepower capable of delivering 400 hp with 415 lb-ft of torque. Our Explorer ST review therefore is a raving one! The wheelbase for the 2020 Explorer is a full half a foot longer over the last model version which adds a sporty look and updates to the exterior which add improvements to driving comfort with higher quality materials and assembly going in the mix.