How to Pair Your Smartphone with Ford SYNC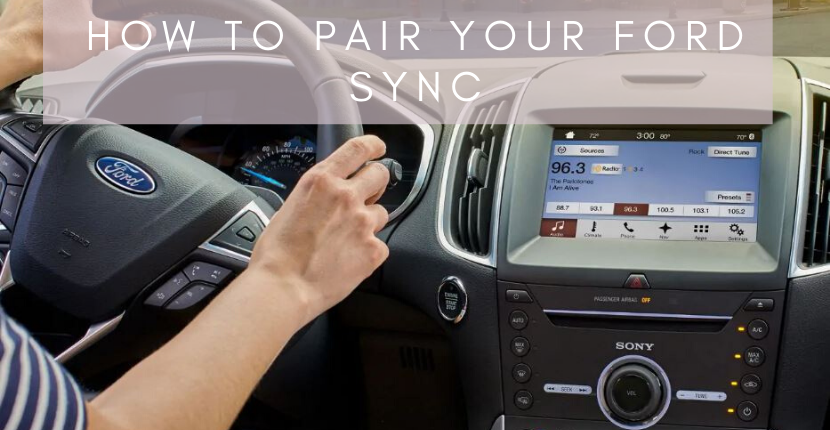 One major advantage of our current society is that we can stay connected almost anywhere. The same is true when you are in your vehicle and on the road. Your Ford vehicle offers you technology features like Ford SYNC that allow you to connect your smartphone to your vehicle. This means that you can make calls and receive text messages through your vehicle. You can learn more about how this technology and how to get it set up below.
Steps to Set Up a Newer Vehicle with SYNC (most models 2015 and beyond)
Make sure your phone and your vehicle are turned on.
Make sure Bluetooth is turned on and visible to other devices.
Press the Phone button on your vehicles dashboard to find the Phone Menu. If this is your first time pairing to your Ford and no other devices have been added you should see Please add a phone. Then, press the add button.
From your phone, go to the Bluetooth menu and search for SYNC and select it once you find it. Then, there will be a six digit pin number that displays on the SYNC screen that will need to be found by your phone.
Confirm the pin number or type it in, and you should receive a message that confirms that your phone is connected to SYNC. Your SYNC display will show the phone menu that will allow you to dial a number, access text messages, and more.
Steps to Set Up an Older Model with Ford SYNC
Turn on your vehicle and mobile phone.
Enable the Bluetooth on your phone so that your phone is discoverable.
Then, press the phone button and click on the add a device display.
SYNC will ask you to press OK to begin device pairing. Press OK.
SYNC will ask you to press OK to search for SYNC on your device. Press OK.
SYNC will have a six digit pin number that your phone will search for an connect with to pair your device.
There are a lot of great technology features that can be found in Ford vehicles. SYNC is one of those great features, but there are other features like Bluetooth, premium audio systems, safety technology features, and more. If you have any questions about Ford SYNC, Ford SYNC compatible phones, Ford SYNC updates, or any other Ford technology features, you can reach out to us at Ford Lowell.
Smith Ford of Lowell has a great selection of new and used Ford vehicles for sale near Lowell. We also have an expert staff that can help you better understand your vehicle and its features. Reach out to us if you have any questions, and feel free to check out our inventory online.