Ford Teams with Luke Combs to Donate Ford-Themed Guitars to Vets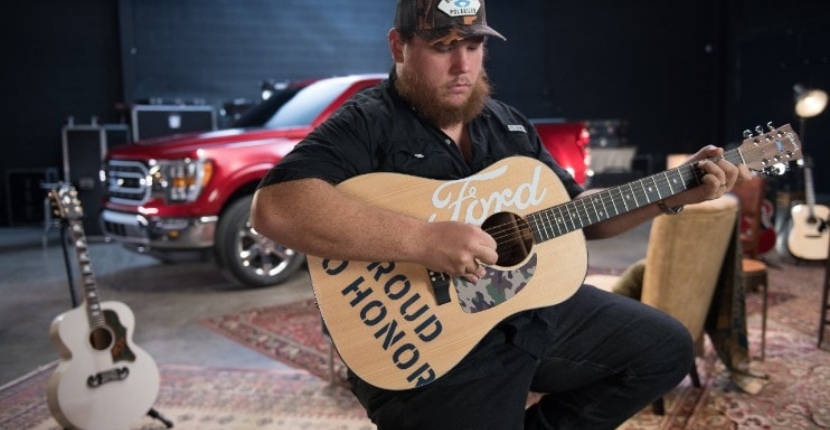 Ford is teaming up with a country music star to give back to US veterans. Ford and Luke Combs will be donating to military vets. Learn more about this below.
It is well-known that many veterans struggle with post-traumatic stress disorder. This can be challenging to deal with, but music is a way that some vets find help and relief from PTSD. That is why Ford is teaming up with Luke Combs to donate instruments to veterans. Luke Combs is the 2019 CMA Male Vocalist and Song of the Year Winner. He is known for being an extremely popular country music artist, and he has also paid tribute to the armed forces through song.
According to Fox News, "The 2019 CMA Male Vocalist and Song of the Year winner is helping Ford give $25,000 worth of instruments to vets through the Guitars 4 Vets organization, which promotes the use of music as a therapeutic method for PTSD."
Ford and Combs will be giving $25,000 worth of instruments to the Guitars 4 Vets organization. They will be donating customize guitars that will have camouflage pickguards and Ford logos.
Guitars 4 Vets is a non-profit organization that helps to provide Veterans with guitars and guitar lessons. They use the healing power of music therapy to help soldiers who are struggling with PTSD. Guitars 4 Vets has given out over 4,000 guitars and 40,000 guitar lessons to military veterans for free. This is a great cause that has many different chapters and locations throughout the United States. You can learn more about this organization by checking out their website, and you could help them give back to Vets in need by donating your time or money.
Ford likes to give back to great causes. They have supported the military and our veterans for many years now to pay tribute to our armed forces and those that serve. Ford even has a Proud to Honor program that sells military-inspired merchandise to raise money for Blue Star Families charities and DAV.
Ford also creates great vehicles for you. If you are looking to upgrade your vehicle, you can come down to Smith Ford of Lowell. We have a great selection of new and used cars, trucks, and SUVs for sale. Reach out to us for more information on how we can help you upgrade.