The Basics of Servicing Your Ford Vehicle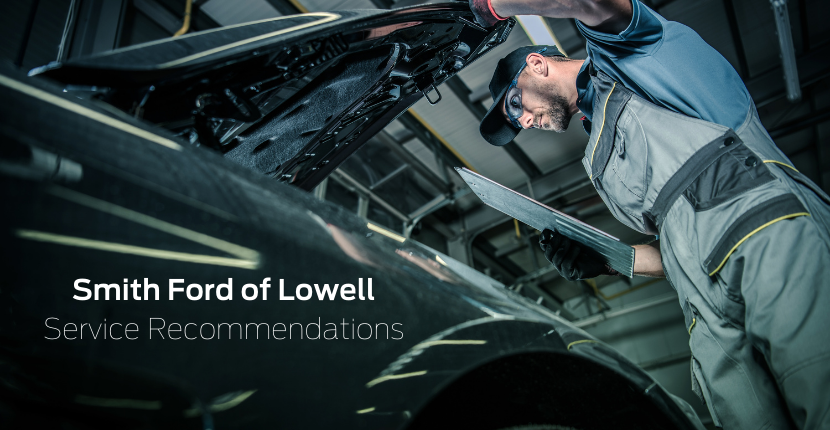 With the winter months in full swing, it's time to consider taking care of that new Ford you got this holiday season. Many Ford models are equipped with a vehicle message center that alerts you to significant events regarding your vehicle's health, but we recommend staying on top of any service options to ensure the best care for your vehicle. Check out our service recommendations below.
10,000 miles
In addition to oil changes, tire rotations and filter changes, there are also many service options to explore in order to keep your Ford running top-notch. Ford recommends that at 10,000 miles, it's time to rotate and inspect the tires if you haven't already. It is also beneficial to inspect brake pads, shoes, rotors, drums, brake lines and hoses as well as the parking brake system. Don't forget to explore our Ford dealership coupons. We have brake pad installation coupons and a complimentary brake pad inspection available until January 31, 2021.
20,000 Miles
For a reliable Ford service, we recommend an oil and oil filter change, and replacing of the cabin air filter at 20,000 miles. Rotate the tires, and if needed, perform a wheel alignment to ensure even tire wear at all four corners. A multi-point inspection is recommended to keep your vehicle in perfect condition. We currently are offering a coupon for a synthetic blend oil change that includes tire rotation, brake inspection, battery check and more.
30,000 Miles
At 30,000 miles, we advise replacing the engine air filter, rotating and inspecting your tires, change the oil and oil filter when indicated on the vehicle message center, or every 12 months, whichever comes first. At 30,000 miles, you may have been riding your Ford all over town. It is a great time to check for any damage or possible leaks. It's also a great time to inspect all hoses, brake lines and brake pads. Not sure how to do this? No problem! At Smith Ford, we provide a reliable, trustworthy service. Our smith hours near me are Monday – Friday from 8:00 am – 5:00 pm and Saturdays from 8:00 am – 4:00 pm. Schedule a service today by clicking here.
40,000 Miles
At 40,000 miles, you may be a pro in knowing when to service your vehicle, but we still have some standard recommendations for you to follow. At 40,000 miles, it's a great idea to change the engine oil and oil filter, replace the cabin air filter, rotate and inspect tires, inspect automatic transmission fluid level, inspect rear axle lubricant, brake pads and rotors and the parking brake system. This may seem like a lot, but our experienced technicians have got you covered! In addition to great coupons and offers, we have plenty of ford rebates and incentives available as well.
Staying on top of your vehicle's service needs will ensure years of reliability from your Ford. Schedule a service today and check out our Ford dealer service specials at Smith Ford, your Ford dealership in Lowell, Indiana.