The Ford Bronco Sport Beats the Toyota RAV4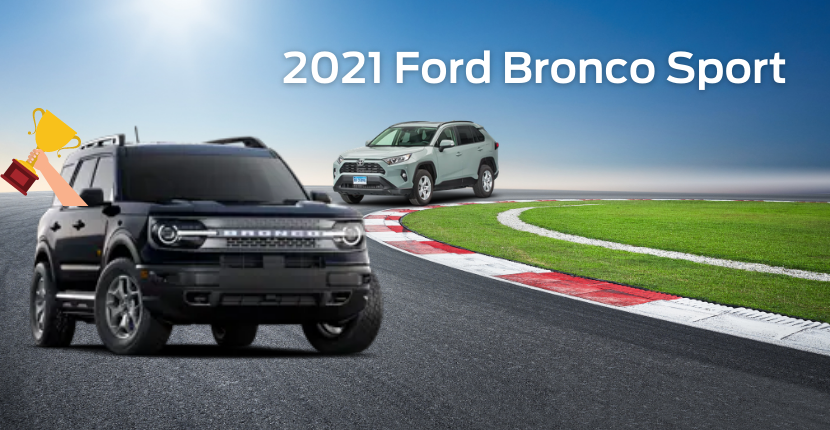 Ford is widely known and considered one of the most reliable when it comes to car manufacturers. Consumers seek out Ford when they are looking to achieve unbeatable performance, design, and pricing. One of Ford's top vehicles, the Ford Bronco Sport, frequently beats out its competitors. It is commonly compared to the Toyota RAV4, due to both vehicles having similar characteristics and comparable pricing. However, the Ford Bronco seems to outdo the RAV-4 with its charm and efficiency. Find out more below about why the Ford Bronco Sport beats out the Toyota RAV 4 below.
Comparing Design
Both manufacturers chose to incorporate classic truck elements when it came to designing these crossovers. With flat, vertical grilles and chunky fenders boxed with cladding, it is no wonder why these crossovers are often compared. The Toyota RAV-4's design is based similarly to the Tacoma and Forerunner, and it doesn't particularly boast any new or exciting design features. The new Ford Bronco Sport is based on the Ford Escape and commands attention with its sporty front and rear fascias, as well as box-like proportions that are sure to make a statement.
Comparing Performance
The Bronco Sport comes equipped with two small turbo engines and two all-wheel-drive systems. If you're looking for performance, the 181 horsepower 1.5 liter turbo-3 of the Ford Bronco Sport is definitely what you are looking for. 190 lb-ft of torque ensures that you are getting the most performance out of your vehicle. Additionally, choose from five drive modes and adjust traction control settings easily in your Ford Bronco Sport. While the engine capabilities are similar to the Bronco Sport, the RAV-4 can off-road, but it cannot handle what the Bronco Sport can.
Interior and Features
With a more box-like shape, the Bronco Sport is roomier especially for taller drivers and front passengers. While the RAV-4 is about nine inches longer, the Bronco Sport is nearly three inches higher and a bit wider. The Bronco Sport comes with a 8-inch touchscreen that is larger than the RAV4's 7-inch standard touch screen. Ford put effort into designing the Bronco, giving it a noticeably fresher feel when it comes to its system and design. While both the RAV4 and Bronco have similar features, the Bronco Sport comes standard with roof rails, a built-in bottle opener, and an LED floodlight.
Pricing
The 2021 Toyota RAV-4 MSRP stands at $26,250 for a standard model. In comparison, the 2021 Ford Bronco Sport MSRP stands at $26,820. With only a slight difference in pricing between these two models, the Ford Bronco Sport proves it is more worth it with its greater design features, capabilities, and performance.
Check out the 2021 Ford Bronco Sport today
Looking for a Ford Bronco Sport for sale or lease? Smith Ford has the largest selection of vehicles and is ready to help you with your car-buying needs. Check our Ford dealership hours to test drive a Ford Bronco Sport and find out for yourself what all of the hype is about. Your search for "Smiths near me" ends here at Smith Ford in Lowell, IN.