The F-150 Lightning Is Electrifying!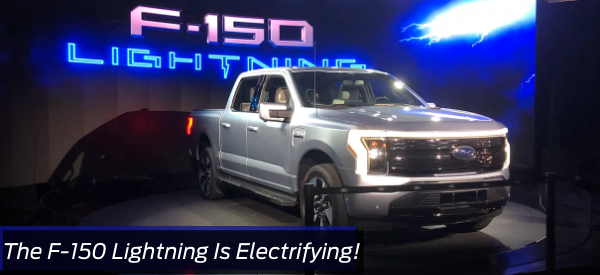 The Ford F-150 Lightning is here and it is electrifying the world! The F series has been the best-selling truck for 40 years now and is the first ever F-Series that's gas-free and offers a wide range of technological advances. Read more about this new electric truck below.
Intelligent Backup Power
Should the power go out in your house, the Ford F-150 Lightning works as a backup source of power. The Ford Intelligent Backup Power connects directly to your house to provide enough power to last three days on a fully charged battery or as long as ten days if rationing power. Having a vehicle as a backup generator is a new concept many buyers can benefit from.
Advanced Technology
The F-150 offers innovative technological features that any driver would be thrilled to have. A prime feature to note is bluecruise. Bluecruise is an advanced feature that uses a driver facing camera and radar sensing technology. Bluecruise is an add on feature to the Lightning that any of our Smith Ford employees would love to discuss with you in order to get the most out of your vehicle.
Nowadays, anything can be done from your phone, and that includes starting your vehicle. The phone as a key feature can access and start your vehicle without ever having to take it out of your pocket.
The Lightning also offers intelligent range so your truck knows how much energy it uses in various conditions. Between over-the-air software updates, powerful charging solutions and FordPass, the F-150 Lightning offers tremendous opportunities for any buyer.
Built Electric
The Ford F-150 Lightning comes with a standard-range battery that offers a targeted EPA-estimated range of 230 miles or an extended battery version of up to 300 miles. An all-electric truck requires no gas and offers lower scheduled maintenance costs. Additionally, the SYNC 4A with the 15.5-inch portrait touchscreen and enhanced voice recognition is a standard feature on LARIAT and platinum models. It offers impressive features including voice access to your favorite apps, connected navigation, cloud-based connectivity and more.
F-150 Rocket League Edition
The Lightning's styling is a bit smoother and more aerodynamic with more dramatic lighting, but is still easily recognizable as an F-150. The stylish model has even made its way to video games. The F-150 Lightning is now a part of the popular Rocket League multiplayer video game where vehicles take center stage to compete in soccer matches. Ford worked collaboratively with Psyonix, a critically acclaimed video game developer, to create the truck. Along with the in-game vehicle, Ford will serve as presenting sponsor for this month's Rocket League Championship Series Winter Majors.
If you are looking to own an F-150 Lighting as your next vehicle you can reserve a model today at Smith Ford, your Ford dealership in Lowell, IN. We have the Ford Lightning for sale starting at $39,974 MSRP.  You can be amongst the first to own the all-new 2022 F-150 Lightning. Just fill out the reservation form, choose your dealer, and make a reservation. To view Smiths near me or our Ford dealership hours, you can visit the About Us tab on our website.