Reserve Your 2022 Model Today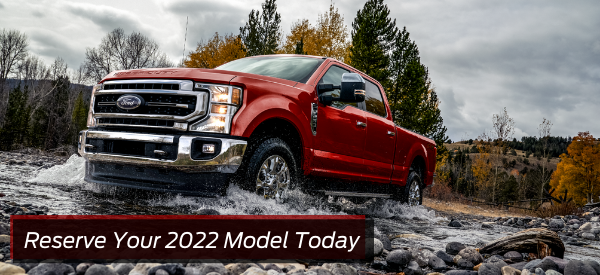 With its 2022 lineup, Ford has amazing new models. They're all-new and shaking up the automotive market, like the Ford F-150 Lightning. With the supply shortage in the auto industry, reserving one of the many exciting 2022 Ford models may be the only way to get your hands on it anytime soon. If you're looking for a new vehicle, now is the time to reserve your desired 2022 Ford model with Smith Ford! Check out some of the groundbreaking 2022 Ford Models: 
2022 Ford F-150
For the first time, Ford has released an electric version of its pickup truck. The 2022 Ford F-150 comes standard with a V-6 or V-8 engine. Or customers can opt to get the F-150 Lightning, replacing the engine with electric motors. The charge time ranges either 230 miles or 300 miles per charge, depending on the battery pack you choose. The F-150 Lightning's interior comes with their signature Sync 4A entertainment system and 15.5-inch screen.
2022 Ford Ranger
Ford's effort to revitalize their pickup truck lineup means the 2022 Ford Ranger is receiving new amazing new updates. A mid-size pickup that sits between the compact truck called the Maverick and the larger high-performance truck called the Raptor. The Ranger is powered by the turbocharged 2.3L four-cylinder engine along with a 10-speed automatic transmission in the 2022 model. This powerful engine is capable of producing an impressive 270 horsepower and 310 lb.-ft. of torque, outmuscling other mid-size pickup trucks. Especially exciting is its Terrain Management System, which optimizes the engine's transmission and responsiveness based on the type of terrain you're driving in — its drive modes include normal, sand, mud/ruts, and grass/snow/gravel. 
2022 Ford Bronco
Back and better than ever, the Bronco features retro-inspired styling combined with its rigorous off-road capabilities, making it one of the best SUVs for any terrain. The 2022 Bronco features standard four-wheel drive, removable roof panels and doors, along with available two or four-door body styles. For enhanced performance and handling on any terrain, it comes with impressive 37-inch tires and a 400+ horsepower V-6 engine and flexible suspension. It comes equipped with the signature Ford Co-Pilot 360 suite, which features an array of safety and driver assists. Including: Blind-spot monitoring, Lane-keep assist, Evasive steering assist, Adaptive cruise control, Rear cross-traffic alert, and so much more!
2022 Ford Maverick
A compact pickup truck, the 2022 Ford Maverick provides many of a full-size pickup's power and towing capabilities. Even more, it features better handling and maneuverability at a much more affordable price. Available in 4 trim levels, including the XL, XLT, Lariat, and the Lariat First Edition, the 2022 Maverick has a starting MSRP of $19,995. Visit us at Smith Ford for Ford Maverick parts!
Reserve Now! 
The all-new 2022 Ford models are expected to fly off the showroom floor! If you want to ensure you're able to get a 2022 model when they hit dealers, reserving the vehicle with Smith Ford is the best way to go. A reservation lets you select your vehicle and be among the first to order a new model from Ford. Simply go online and select "Reserve Now," on your desired vehicle's page, then fill out the reservation form. Then, simply submit your request to join the list for the new vehicle.
Visit Smith Ford in Lowell! 
Learn more about the 2022 lineup for Ford models at Smith Ford of Lowell. If you're searching online for "Smith hours near me," we've got you covered. Our Ford dealership IN is open from 9 AM to 7 PM Monday through Thursday, 9 AM to 6 PM on Friday, and 9 AM through 4 PM on Saturday (closed on Sundays) Visit us to learn more about reserving your 2022 Ford model or schedule a test drive today!