Ford Files Patent for Retractable Exhaust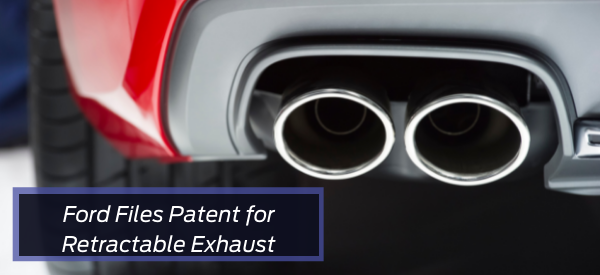 Ford has long been at the cutting edge of new technology in the automotive industry. Just look at the new all-electric Ford F-150 Lightning pickup truck. Recently, the manufacturer has filed several interesting new patents, such as for a removable roof and doors and a drone that's capable of helping owners find their vehicle. One of these patents is especially exciting for customers: retractable exhaust. Check out the exciting new releases by Ford now at Smith Ford!
What We Know About the Patent 
Under patent number US2021310400A1, Ford filed with the United States Patent Office in October. The patent appears to attempt to solve a common problem. This is pretty typical of Ford. It has been trying to improve approach and departure angles on its more off-road focused models for several years. Changing the design of an exhaust tip could be the perfect solution. 
 What is a Retractable Exhaust? 
Ford's new patent reveals retractable exhaust tips that aim to improve the departure angle of a vehicle, and ultimately, it's off-roading capability. Typically, exhausts hang lower than a vehicle's rear bumper, which can hinder the vehicle's departure angle. To address this problem, Ford is employing retractable exhaust tips that move out of the way when more clearance is needed when navigating obstacles like rocks or other uneven surfaces. The exhaust tips would still sit in the typical spot below the rear bumper on normal driving terrain, but the retraction allows the vehicle to perform better on rugged terrain. 
How the Retractable Exhaust Works 
The device depicted in Ford's patent is pretty simple. It features a normal exhaust tip and corresponding pipe, along with a power-operated module with a gear, bearings, and an electric motor. When needed, the system pulls the tip back far enough that the rear bumper is the lowest-hanging component. It is likely the vehicle will involve some sort of sensor to know when to retract the tips automatically, though it possible it will be engaged in off-road driving mode or via a button on the dashboard or infotainment system. 
What We Can Expect to See Soon
While this patent is compelling, it's still just a patent, which means it's in a very early development stage. It may never even be released, or it may be years before the feature is available on Ford vehicles. 
Visit Smith Ford!
Looking for a Ford Dealer Indiana? At Smith Ford,  we've got you covered. You can find Smiths Near Me for all of your automotive needs! Check out our Ford Dealership Hours: we're open from 9 AM to 7 PM Monday through Thursday, 9 AM to 6 PM on Friday, and 9 AM through 4 PM on Saturday (closed on Sundays). Visit us to learn more about the exciting innovations happening at Ford or schedule a test drive today!