​​Snow Tires Are Still Important for AWD and 4WD Trucks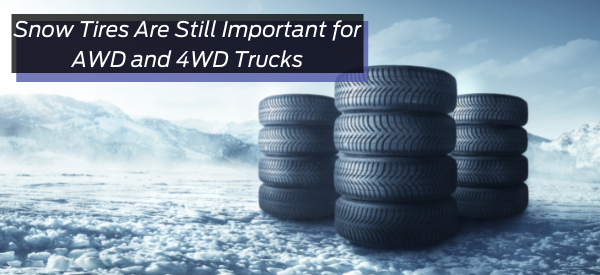 As more and more drivers purchase vehicles with all-wheel drive (AWD) and four-wheel drive (4WD), some drivers think they are fully prepared for snowy and icy conditions. Although AWD and 4WD provide tractions and control by sending power where your tires need it most, your vehicle still needs winter tires. Find snow tires for your AWD and 4WD truck now at Smith Ford!
Why Snow Tires Are Important for AWD and 4WD Trucks
Despite the common misconception that AWD and 4WD trucks are immune from winter worries because they perform better in colder conditions, snow tires are still essential for safety. During the winter, you're facing slipper conditions and slower driving through the snow. This is where traction is more important than ever. With snow tires, you get the most traction possible. If your AWD or 4WD truck is not equipped with winter tires, its performance will be the equivalent of a typical two-wheel-drive vehicle. 
Will All-Season Tires Suffice? 
Although some people think they're covered for the winter if they have all-season tires, this is actually not true. Winter tires are specifically made for the unique weather conditions of the season, from snow to ice to sleet. They are made with specially designed rubber that remains flexible and softer during cold temperatures. 
The tread on snow tires is unique as well, with deeper grooves and irregular edges to optimize the tire's grip in snow, sleet, rain, and ice. The rubber used for all-season tires is made for wet and dry conditions, meaning it will begin to stiffen and reduce traction in low temperatures. 
Order Your Winter Tires from Smith Ford Parts
When it comes to buying parts, you can look to the Smith Ford of Lowell team with confidence! Whether tired of slogging through pages and pages of inventory on the internet just to find a single part or you just don't have the time, our parts department is ready to help you find the perfect winter tires! Our staff of professionals is well versed in the world of parts. From Ford parts to nearly any other parts drivers might be after, Smith Ford can help. We will work with drivers to find parts for your F-150, Escape, Explorer, Bronco Sport or Ranger — no matter what Ford model you drive, our service team can help!
Visit Smith Ford!
Looking for a Ford Dealer Indiana? At Smith Ford,  we've got you covered. You can find Smiths Near Me for all of your automotive needs! Check out our Ford Dealership Hours: we're open from 9 AM to 7 PM Monday through Thursday, 9 AM to 6 PM on Friday, and 9 AM through 4 PM on Saturday (closed on Sundays). Visit Smiths near me to learn more about the exciting innovations happening at Ford or schedule a test drive today!