The F-150 Lightning Has The Largest Frunk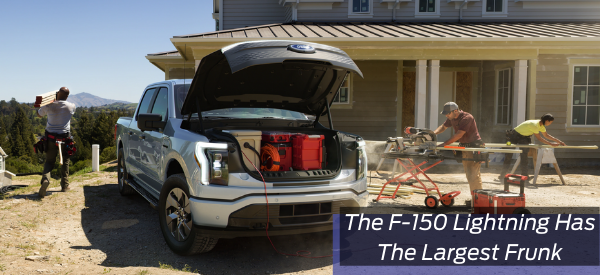 Earlier this year, Ford unveiled the all-new electric F-150 Lightning. Featuring a low price tag and lots of amazing features, the battery-powered pickup blows away the competition in the electric pickup market. Even between, the F-150 Lightning has the largest "frunk" on the market, giving you extra space and storage. Check out the all-new Ford F-150 Lightning at Smith Ford now!
Mega Power Frunk 
On top of the F-150 Lightning's impressive power and performance, it features what Ford calls a Mega Power Frunk. The vehicle's front trunk is a huge space with multiple power sources and ample room for two golf bags. To make it happen, Ford had to engineer its way out of several problems, including constructing an asymmetrical frunk, adding a drainable floor, and a waterfall hood design that customers requested. 
Comparable to a typical midsize sedan's trunk, the F-150 Lightning's frunk offers 14.1 cubic feet (400 liters) of cargo volume and a payload capacity of 400 pounds. This gives you even more space, storage, and convenience. 
How the F-150 Lightning Changed the Electric Vehicle Game 
America's best-selling truck for 44 years for a reason, the Ford F-series is well-loved among truck lovers. Taking it into the future, Ford created the first ever F-Series that's gas-free and offers more purposeful technology, an elevated driving experience, and trusted Built Ford Tough capability with the F-150 Lightning. It also offers an array of connected, intelligent features with over-the-air Software Updates to help ensure your truck can get even better over time.
Leading the Way in the EV Pickup Market 
The F-150 Lightning starts at just $39,974 before incentives and a $7,500 federal tax credit. It comes in four series with an array of technologies, features, and creature comforts to suit your everyday needs. Promising lower up-front costs and significantly reduced maintenance, the F-150 Lightning has scheduled maintenance costs estimated to be more than 40 percent less than the average scheduled maintenance costs for a gas-powered F-150 over 8 years/100,000 miles (whichever comes first). Additionally, its residual values are expected to be similar to current F-150 models. 
Visit Smith Ford!
Looking for Smiths near me? At Smith Ford,  we've got you covered. Check out our Ford Dealership Hours: we're open from 9 AM to 7 PM Monday through Thursday, 9 AM to 6 PM on Friday, and 9 AM through 4 PM on Saturday (closed on Sundays). Visit us to learn more about the F-150 Lightning's frunk today!