Meet Our New GM: Chris Ofcky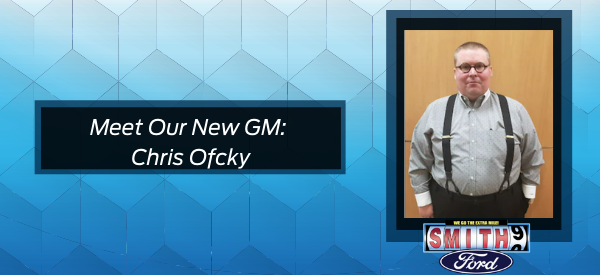 Welcome To The Smith Ford Family
Smith Ford is happy to welcome a new leader to our team, Christopher Ofcky, General Manager. Chris joined us in November and we are thrilled to have him on board!
Chris Ofcky has been in the automotive business for nearly seventeen years. During his tenure he has worked with many different automotive brands, including BMW and Chevrolet, across in Northwest Indiana. He brings to us not only a wide array of experience including fixed operations and marketing, but also a high level of customer service and care about the community.
In fact, Chris is a Lowell, Indiana native. Get to know more about Chris below!
Q&A
Q: What is your favorite Ford model?
A: My favorite Ford model would have to be the Bronco Sport. Given the top configuration and all of the accessories, I've never seen anything more versatile for town and city driving all the way to the outdoors in multiple environments (accessory packages are available for these terrain configurations as well). I'm a big fan of customizable vehicles, as we spend a good deal of time in them, and they tend to be a reflection of the owner's personality.
Q: What is your favorite thing about working at Smith Ford?
A: Throughout my life, I've been fortunate to have worked the spectrum of dealerships, from high volume, fast-paced ones, down to smaller, more family-oriented businesses which take the extra time needed to make each vehicle transaction personal; that's one of my favorite things at Smith Ford. I've already met many of our "regulars" – customers which sometimes just stop in to say hello, and that sort of thing really picks me up, working in a retail environment, because it's nearly unheard of at most places. It really goes to show what a great connection we have with the customer base here, and that's a special thing. It's irreplaceable in business. Nearly every employee we have has lived in this town (Lowell), and worked at Smith Ford for a great deal of their professional life. We see our customers regularly as we go about our personal lives.
Q: What do you like to do in your spare time?
A: I have several hobbies that I pursue in my free time, when I'm not thinking about cars! I am an avid reader; a voracious one. I love all types of material, particularly old history books. I am somewhat of an armchair historian. Nothing interests me as much as that, because it's a gateway into studying everything else: economics, politics, cultures, geography, etc. It ties all of the sciences together. I enjoy patronizing all of our local businesses here in Lowell, and I'm a sucker for a good farmer's market. I love spending time with Chewie, my Airedale Terrier, and of course I enjoy my fair share of a good night in. I'm an avid bourbon and cigar enthusiast as well.
Q: Is there anything else you'd like to say?
A: We've just finished our order reservation wrap for the new Ford Lightning which is going to be making a huge impression on the entire automotive industry when they begin production. The extended ranges of these pickups use next-generation technology, as well as maintaining a respectable towing capacity for an electric vehicle, and it keeps mandatory full-time four wheel drive. It'll be amazing to watch these units come in and we get the privilege of seeing them driving around in our hometown.
Visit Smith Ford Today!
You too can join the Smith Ford family! Looking for a ford dealer in Indiana? Let Smith be your 'Ford dealer near me' for all of your automotive needs! Visit us to learn more about our new and pre-owned inventory or just stop in to say hello! Our Ford dealership hours are: 9 AM to 7 PM Monday through Thursday, 9 AM to 6 PM on Friday, and 9 AM through 4 PM on Saturday (closed on Sundays).