Electric Vehicles at the Auto Show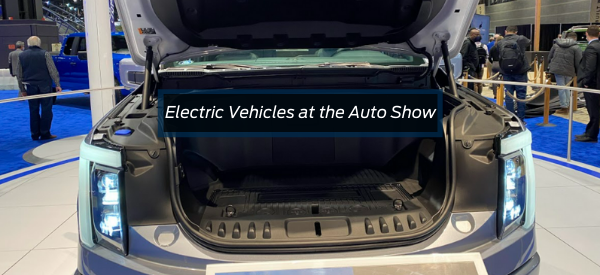 The Chicago Auto Show is back now! Returning to its regular ten-day February schedule, the Chicago Auto Show is taking place now until February 21 and featuring multiple world and North American introductions; a complete range of domestic and imported passenger cars and trucks; sport utility vehicles; and experimental or concept cars. Excitingly, the Chicago Auto Show is presenting several Ford electric vehicles for attendees to view and check out. To learn more about Ford EVs, visit Smith Ford Lowell!
What is the Chicago Auto Show? 
First taking place in 1901, the Chicago Auto Show is held more than any other auto exposition on the continent. It is also the largest auto show in North America, and 2022 marks the 114th edition of the Chicago Auto Show. Held in Chicago's famed McCormick Place, the Chicago Auto Show sprawls more than 1 million square feet in the North and South Exhibit Halls of the complex. 
Electric Vehicles at the Chicago Auto Show 
This year's Auto Show offers visitors an opportunity to see and test drive the latest in vehicle hardware, including electric vehicles. With many manufacturers transitioning to all-electric lineups in the next decade or so, they are introducing concept electric vehicles at the Chicago Auto Show. 
The 2022 show will feature every flavor of electric vehicle — from pure electrics to hybrid extended-range electrics. Find the full list of electric concept cars scheduled for the 2022 Chicago Auto here. 
Featuring Ford Electric Vehicles 
At this year's Auto Show, three Ford electric vehicles will be featured: the Ford E-Transit, the Ford F-150 Lightning, and the Ford Mustang Mach-E. With three electric vehicles on display, Ford is leading the pack into the all-electric future. Check out more about each Ford EV: 
Ford E-Transit:

All-new for the Ford 2022 lineup, the E-transit is a commercial cargo van that is fully electric, has an approximate driving range of 126 miles in low-roof configuration, and can be equipped to haul passengers or cargo. It will feature both AC and DC charging and comes equipped with a charger that can utilize 120V and 240V charging, allowing it to be fully charged in under eight hours. Pricing will start at $45,000 and be available for fleet customers only.

Ford F-150 Lightning:

The Lightning is Ford's first fully electric pickup truck, which will be offered as a crew cab with a 5.5-foot bed and all-wheel drive as standard. Three trims will be available at launch: XLT, Lariat and Platinum. Maximum towing is expected to be 10,000 pounds, and unlike the gas F-150, the Lightning has an independent rear suspension and a 14-cubic-foot "frunk." It will also feature BlueCruise, Ford's semi-autonomous driving system, which offers hands-free driving in certain conditions on more than 100,000 miles of divided highways across the U.S. and Canada. It starts at just $39,974 before any federal or state tax credits, while the mid-series XLT model starts at $52,974 MSRP.

Ford Mustang Mach-E:

The Mach-E adds a new Ice White styling package and new exterior colors for 2022. It seats 5 passengers and offers four trims: Select, California Route 1, Premium, and GT. Rear-wheel-drive is standard, while all-wheel-drive is optional. It offers an overall a driving range of 224 to 314 miles with three available drivetrains, the top of which reaches 480 horsepower. Pricing ranges from $44,000 to $65,000.
Visit Smith Ford!
Looking for a Ford dealer near me? At Smith Ford,  we've got you covered. Check out our Ford Dealership Hours: we're open from 9 AM to 7 PM Monday through Thursday, 9 AM to 6 PM on Friday, and 9 AM through 4 PM on Saturday (closed on Sundays). After your visit to the Chicago Auto Show, visit us to check out Ford electric vehicles!