How to Decide Which Bronco Is for You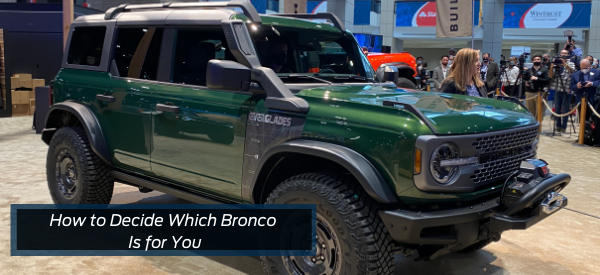 Back like it never left, the Ford Bronco has returned after a twenty-five-year hiatus! Packed to the brim with technological advancements and overhauled with a stylish exterior design, the new Ford Bronco is  a rugged and capable modern SUV that hearkens back to its original glory. With a wide selection of models and packages, the Ford Bronco is as flexible as ever. Coming in summer of 2022, the Ford Bronco will feature two new special-edition models: the Bronco Raptor and the Bronco Everglades. Read on to learn more about how the Ford Bronco can fit anyone and everyone's unique needs!
Keep it Simple: Base Ford Bronco
Why complicate a great thing? The base Ford Bronco is a bold and competent SUV ready for whatever you throw at it. With up to 330 horsepower on a 2.7-liter engine, the Ford Bronco can handle anything from deep sand to towing. Quickly shift driver settings with Electronic Shift on the Fly, giving you the torque necessary for any encounter. The Bronco also provides a driving experience unlike any other—take full control of your vehicle with a standard 7-speed manual transmission, drop the top and enjoy some fresh air on your drive, and stay connected with Apple Carplay and SiriusXM. Adventure and enjoyment await with the Ford Bronco!
Need for Speed: Ford Bronco Raptor
Looking for something a bit bolder? The new Ford Bronco Raptor is the most powerful Bronco to ever hit the streets. With an engine designed to hit more than 400 horsepower, the Ford Bronco Raptor rips through desert dunes and rocky terrain at breakneck speed. A high-strength steel frame and reinforced skid plates increases off-road durability, giving you the power to cruise down the unbeaten path in record time.
The Road Less Traveled: Ford Bronco Everglades
Escape into the great outdoors with confidence in the Ford Bronco Everglades. Built with remote locations in mind, the Everglades is uniquely equipped with its signature snorkel, reversing engine air intake to optimize vehicle performance in dusty and snowy conditions. A 10,000-pound capable winch is ready to assist in sticky situations, making the Everglades the hero of the day. Ready to head home? With marine-grade vinyl seats and rubberized flooring, it's always easy to clean up whatever mess that was made on the trail.
Back in the 90s…
After 25 years of designs and improvements, the Ford Bronco is finally back and here to stay, and at Smith Ford Lowell, we are thrilled to usher in this revolutionized piece of the past. The Ford Bronco is highly customizable and can fit whatever lifestyle you have, and with a highly knowledgeable and eager team, we are ready match you with a Ford Bronco. Come see us by searching for a Ford dealer near me, and while you're here, check out the other 2022 Bronco models and the rest of the impressive Ford 2022 lineup! At Smith Ford Lowell, we are excited to fit you and your needs.