How to Get the Ford You Want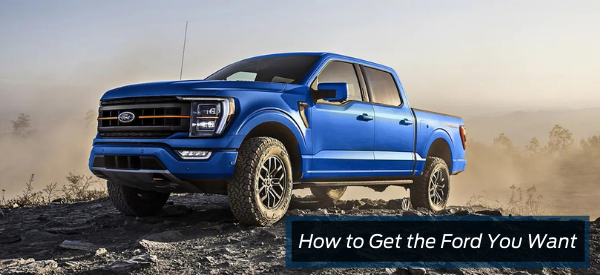 Get the Ford you want with Ford Custom Ordering! You can get your Ford, your way. You shouldn't have to settle. Custom order any of these vehicles and choose the available features that fit your life. If you're looking for something else, we offer convenient, dealer-direct custom ordering. With Ford Custom Order, you can get your vehicle faster. Check out how to custom order from the 2022 Ford Lineup now at Smith Ford of Lowell!
Ford Custom Order
To get your Ford, your way, order some of Ford's most popular vehicles online. When you custom order select Ford vehicles, you'll even receive a $1000 Bonus Cash Offer. 
How to Custom Order 
Smith Lowell Ford offers a free, no obligation and confidential CarFinder tool, allowing you to specify your desired car, truck or SUV and submit the vehicle configuration to us. Choose from our capable vehicles, then pick the available features that fit your life. Once we locate matching automobiles, you automatically receive details of those models, with photographs included. Let us handle the task of finding your next dream car!
Which Ford Vehicles Can Be Custom Ordered
You can custom order any Ford vehicle you want—exactly to your specifications. From SUVs and crossovers to trucks and vans, Ford Custom Order offers the vehicle of your dreams. With popular Ford models like the F-150, Bronco Sport, and Escape, the customization possibilities are endless. We are dedicated to bringing you the exact Ford vehicle you envision. You can check out various Ford models now at Smith Ford!
Ford Custom Order Timeline 
Wondering how long it will take to get your Ford custom order?  Delivery time varies depending on the model so it's hard to give an exact time frame. Vehicles generally take eight to 12 weeks, and custom orders will be expedited and can be built and ready for delivery within three weeks in some cases. 
Production could heavily vary depending on the factory as well, but Ford will be prioritizing custom orders above stock inventory. As inventory will continue to be limited, we assure you that a custom order or pre-order, made to your liking will be worth the wait.
Visit Smith Ford!
Looking for a Ford dealer near me? At Smith Ford, we've got you covered. Check out our Ford Dealership Hours: we're open from 9 AM to 7 PM Monday through Thursday, 9 AM to 6 PM on Friday, and 9 AM through 4 PM on Saturday (closed on Sundays). Our mission is to earn our customer's loyalty by delivering sales and service experiences with high quality, excellent value, integrity, and enthusiasm. We offer the largest and most complete selection of new and used Ford cars, trucks, and SUVs in the area. Do business with us, and you will not only get the best pricing, but the reassurance that you are purchasing from an establishment founded on respect, integrity, teamwork, honesty, and trust. Visit us to custom order your Ford today!