The F-150 Lightning Production Has Begun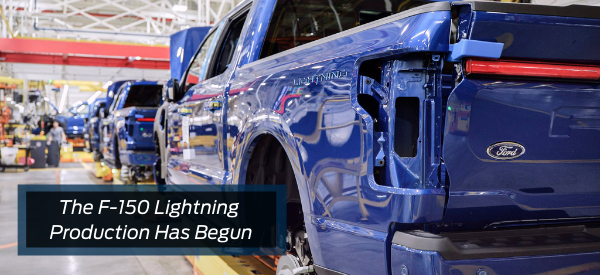 On April 26, Ford marked the launch of the all-new, electric F-150 Lightning pickup – a milestone moment in America's shift to electric vehicles. Along with the broader 2022 Ford lineup, Ford began production of the Lightning. F-150 Lightning is the fastest-accelerating F-150 yet and the only full-size electric pickup available now with a starting price less than $40,000. Check out the F-150 Lightning pickup now at Smith Ford of Lowell! 
F-150 Lighting Production Begins 
The day marked the official start to the production of the Ford F-150 Lightning. It will begin at the high-tech Rouge Electric Vehicle Center within Ford's historic Rouge Complex in Dearborn, Michigan. The only electric vehicle that is Built Ford Tough, the F-150 is the smartest, most innovative F-150 that Ford has ever built, with the freedom of a 10-kilowatt smart power plant on wheels, software updates that will make it even better over time, and Built Ford Tough capability. 
Ford has unprecedented demand for F-150 Lightning with 200,000 reservations and is expanding the Rouge Electric Vehicle Center to ramp up production to a planned annual run rate of 150,000 in 2023. The company has invested a total of $950 million and created 750 jobs at the Rouge Electric Vehicle Center. 
Ford Celebrates Leading the Electric Future 
Bill Ford, the Ford Executive Chair, said, "Today we celebrate the Model T moment for the 21st Century at the Rouge Electric Vehicle Center. The Rouge is where Ford perfected the moving assembly line, making it a fitting backdrop as we make history again. The stunning anticipation for F-150 Lightning is a credit to the work of our Ford engineers and designers, and the UAW team members who are building these trucks with pride."
The Lightning Changes the Electric Game 
The Ford F-series is America's best-selling truck for 44 years for a reason. And now, it's charging into the future with the all-new, all-electric 2022 Ford F-150 Lightning. It's the first ever F-Series that's gas-free and offers more purposeful technology, an elevated driving experience and trusted Built Ford Tough capability. Offering an ingenious array of connected, intelligent features with over-the-air Software Updates to help ensure your truck can get even better over time.
Starting at just $39,974 before incentives and a $7,500 federal tax credit, the Ford F-150 Lightning comes in four series with an array of technologies, features and creature comforts to suit your everyday needs. 
Visit Smith Ford!
Looking for a Ford dealer near me? At Smith Ford, we've got you covered. Check out our Ford Dealership Hours: we're open from 9 AM to 7 PM Monday through Thursday, 9 AM to 6 PM on Friday, and 9 AM through 4 PM on Saturday (closed on Sundays). Our mission is to earn our customer's loyalty by delivering sales and service experiences with high quality, excellent value, integrity, and enthusiasm. We offer the largest and most complete selection of new and used Ford cars, trucks, and SUVs in the area. Do business with us, and you will not only get the best pricing, but the reassurance that you are purchasing from an establishment founded on respect, integrity, teamwork, honesty, and trust. Contact your Lowell Ford to order your all-new F-150 Lightning today!