Why Buy a One-Owner Vehicle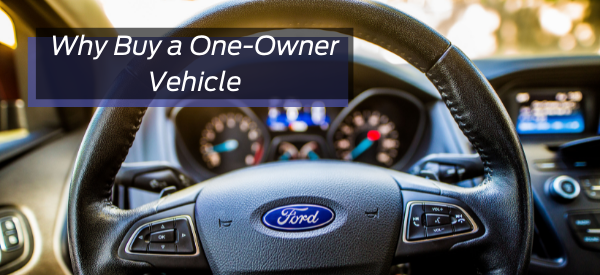 Buying a used car can be a scary experience. Oftentimes, no matter how hard we try, it is impossible to fully comprehend the status of the car and its level of maintenance. In many ways, buying a used car is a toss of the dice—has it been well-serviced? Is that weird sound from the engine normal? Have they taken care of the car as well as you would have?
The number one way to cut down on the risk of buying a used car is ensuring that you only purchase vehicles that have been used by one owner. In many ways, this is the best of both worlds: enjoy the discounted cost of a used car while also making sure you receive a high-quality automobile. Read on for a few benefits of one-owner vehicles.
A Complete History
Multiple-owner vehicles can be extremely hard to track across the mountains of paperwork that comes with selling a car. Different states have varying standards of registration and required maintenance, and every owner will treat their car a little bit differently. With a one-owner vehicle, it is much easier to locate a complete history of service and registration data.
In addition to complete history, one-owner cars are typically newer. Whoever had the car must have bought it new and driven it right off the lot. It makes sense, then, that one-owner cars will be less old than those with multiple owners.
Peace of Mind
Selling and buying a car can be an undue hassle for many people—we are usually more likely to keep what we currently have. A car with multiple owners implies that the car might have significant problems, therefore being passed around to multiple owners. Also, every car owner will have varying driving styles and service habits. Who knows how they treated their vehicle? Above everything else, knowing that less people have driven your car simply provides peace of mind!
Trust the Experts
Here at Smith Ford, we firmly believe that buying a used car shouldn't be such a stressful situation! We understand the benefits of a one-owner vehicle and aim to make your used car purchasing experience enjoyable, not nerve-wracking. On our lot, we have several one-owner used cars that we are happy to show you and help ease any worries you might have. Or maybe a pre-owned car just isn't for you. Good news, we also have the all-new 2022 Ford lineup! Come see us yourself by searching for Lowell Ford or a Ford dealer near me.