How to Use Ford Remote Start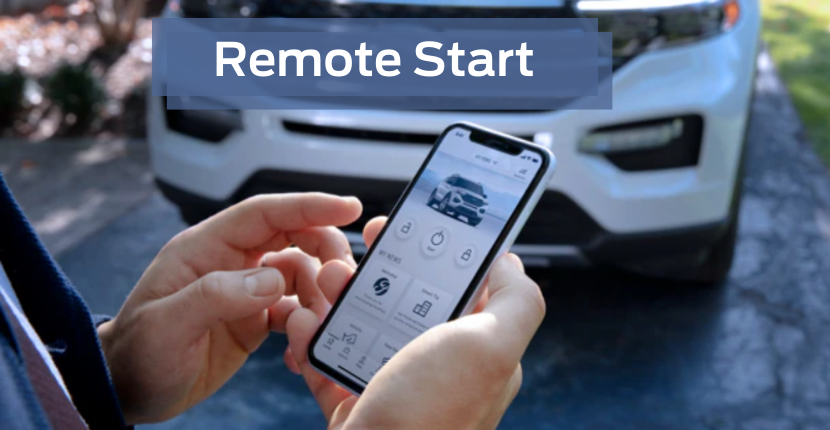 Ford vehicles are designed to make your life easier. Your Ford may be equipped with a remote start system. This allows you to turn on the ignition from up to 300 feet away. Whether it's a cold winter morning or a hot summer day, just press a button, and the remote start feature can help adjust your vehicle's interior to a comfortable temperature before you even get inside. You can remote start with your key fob or by downloading the FordPass App, available to download on the Apple App Store and Google Play. Learn more about how to use remote start now at Smith Ford of Lowell! 
Does Your Vehicle Have Remote Start?
To begin the remote start process, first make sure your Ford vehicle is equipped with a remote-operated starter. Check your key fob if you aren't sure. If you see a remote-start button shaped like a curved arrow, then you have remote start capabilities. If you don't have remote start capabilities, you can easily add it to your vehicle with the Ford Technology Package. 
How to Ford Remote Start
Find the remote start button, it looks like an arrow curved in a near-circle. You're now ready to start your vehicle remotely. To begin, you'll need to make sure you first press the lock button to lock your car before it starts your engine for safety and security purposes. You will not be able to remote start your vehicle until it has been locked beforehand. Then, press the remote start button twice. Steps must be done within 3 seconds.
If you've successfully started your Ford remotely, the exterior lamps will flash twice. However, the horn will sound if the system fails to start, unless Quiet Start is on. You can switch Quiet Start on or off in the information display of your vehicle. When on, Quiet Start means your vehicle's horn will not sound and the blower fan will run at a lower speed to reduce noise. 
Ford Remote Start App
The FordPass App is the app for that. It's the app that puts your ownership experience right in the palm of your hand. With FordPass, you can stay connected to your vehicle. Access complimentary remote features, like start/stop, lock/unlock, schedule a start, locate vehicle and vehicle status check on the FordPass App when your vehicle is equipped with FordPass Connect. 
You can also remote start your vehicle via the FordPass Connect app. With this app, you have all of the same capabilities of your key fob, plus even more tech features. For example, the FordPass Connect app keeps all of your vehicle details in one spot. You can keep tabs on your vehicle's oil life, fuel level, approximate mileage, and maintenance intervals all from the "Vehicle" page. 
Visit Smith Ford!
Looking for a Ford dealer near me? At Smith Ford, we've got you covered. Check out our Ford Dealership Hours: we're open from 9 AM to 7 PM Monday through Thursday, 9 AM to 6 PM on Friday, and 9 AM through 4 PM on Saturday (closed on Sundays). Our Lowell Ford mission is to earn our customer's loyalty by delivering sales and service experiences with high quality, excellent value, integrity, and enthusiasm. We offer the largest and most complete selection of new and used Ford cars, trucks, and SUVs in the area. Do business with us, and you will not only get the best pricing, but the reassurance that you are purchasing from an establishment founded on respect, integrity, teamwork, honesty, and trust. Visit us today to learn more about remote start available on the 2022 Ford lineup!