How Towing Affects Your F-150 Lightning's Range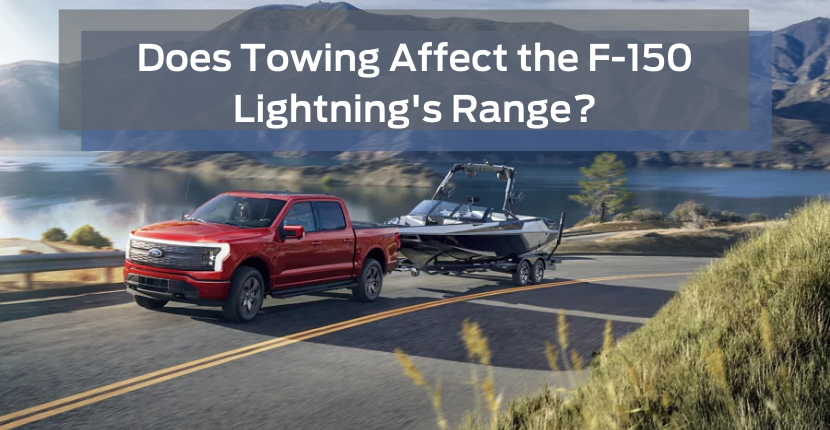 The Ford F-150 Lightning is a very smart truck. The electric truck is extremely powerful, boasting a towing capacity of up to 10,000 pounds. As with all trucks, towing more and more weight will impact your gas mileage. While this relationship is well-understood for gas-powered trucks, electric vehicles are a little more complex. To address this issue, Ford has tasked its best and brightest engineers with improving the already impressive Intelligent Range system. The final result? Intelligent Range now uses a variety of factors to closely estimate remaining mileage, preventing drivers from being stuck with a depleted battery while towing heavy cargo. Read on to learn more!
Intelligent Range
Estimating remaining miles is nothing new for car manufactures, but nobody has done it quite as well as Ford. With their unique Intelligent Range system, Ford owners have long had confidence in how many miles they have left in the tank. As Ford enters the world of EVs, they have upped their game again, turning Intelligent Range into the premier mileage estimating system over the past few years.
At the heart of Intelligent Range is data. Intelligent Range collects and calculates key metrics for drivers: everything from traffic speed to topography to external temperature. Even more impressive, Intelligent Range uses cloud data from other Ford vehicles to refine its estimations even further!
Onboard Scales
In conjunction with Intelligent Range is the Onboard Scales system. This system takes into consideration the weight of the current load to better calculate remaining gas mileage. Therefore, in real-time, the Onboard Scales system collects metrics related to towing and battery life to provide incredibly accurate mileage calculations, regardless of the size of the load.
At the heart of Onboard Scales is machine learning. The machine learning models train and improve in real-time! As an F-150 Lightning is driven more and hauls loads of different sizes, the mileage calculations get even more accurate.
Power On
Towing with electric vehicles provides a new challenge for estimating remaining miles. However, Ford has clearly embraced this issue and has developed a mileage system that is better than ever before. In other words, with a pair of high-tech systems that utilize smart technology to constantly improved, drivers will never have to worry about unexpectedly running out of juice. Come see this amazing tech for yourself! Here at Smith Ford, we are excited for Ford's foray into EVs, and we are already stunned by how much power these trucks have to offer. Lowell Ford is proud to soon have the 2022 Ford lineup on our lot, and we are thrilled to show them to you! Finding us is easy, simply search for a Ford dealer near me or Smith Ford of Lowell.