How to Increase Fuel Efficiency While Driving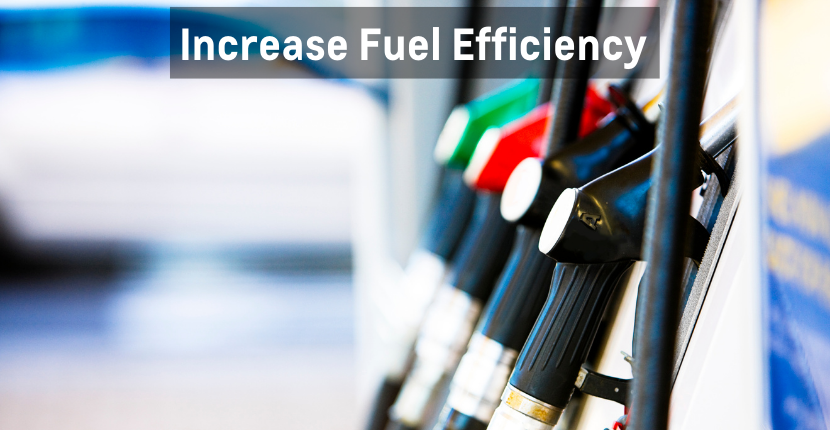 As gas prices rise, it's important to start thinking about how to improve your vehicle's fuel efficiency. There are some habits you can adopt to get the most bang for your buck at the gas pump. Or it might be worth switching to a more fuel efficient vehicle. Ford vehicles are designed to give you the greatest range out on the road with excellent Ford mileage. Learn more about fuel efficient Fords now at Smith Ford of Lowell now!
Steps That Improve Your Vehicle's Fuel Efficiency
If your driving habits match anything below, avoiding those habits can help you get more out of your vehicle's gas mileage. Here are some things that most impact a vehicle's efficiency:
Heavy Brake and Acceleration Usage

: Heaving braking and acceleration uses up more fuel. This usage happens because you're forcing your vehicle to switch gears too fast to reach optimal fuel efficiency. The Environmental Protection Agency (EPA) estimates that heavy braking and acceleration on the highway can reduce fuel efficiency by as much as 33 percent. 

Often Traveling in Cold Weather

: During the winter, your engine takes even longer than normal to warm up. This means it spends less time at the optimal temperature for fuel efficiency. If possible, save your trips for days when the temperatures are higher. 

Excessive Short Trips

: An engine is at its most efficient after it warms up. If you primarily take short trips in your vehicle, you're using more fuel overall because your car doesn't have time to warm up fully. 

Speeding

: Speeding can not only cost you a ticket, but it also uses gas much more quickly. Driving 80 mph or over creates high air resistance, which decreases your vehicle's fuel efficiency. 

Heavy Vehicle or Towing Weight

: Your engine has to work harder when your vehicle is weighed down. Try to limit the amount of towing or moving cargo you do with your vehicle. Things that weigh your vehicle down a lot include bike racks, heavy interior cargo, or a trailer. 
Ford Vehicles with Great Fuel Efficiency
More than any other brand on the market, the 2022 Ford lineup gives you the most bang for your buck at the pump. With the 2022 Ford Explorer HEV RWD, you'll get fuel efficiency of 27 MPG combined (27 MPG city/28 MPG highway). The 2022 Ford Escape FWD has a fuel economy of 30 MPG combined (28 MPG city/34 MPG highway), and the 2022 Ford Escape FWD HEV takes it a step higher with 41 MPG combined (44 MPG city/37 MPG highway). Even more, the 2022 Ford Escape FWD PHEV gives you an electric and gas combined fuel economy of 105 MPGe combined. 
Visit Smith Ford!
Looking for a Ford dealer near me? At Smith Lowell Ford,  we've got you covered. Check out our Ford Dealership Hours: we're open from 9 AM to 7 PM Monday through Thursday, 9 AM to 6 PM on Friday, and 9 AM through 4 PM on Saturday (closed on Sundays). Our mission is to earn our customer's loyalty by delivering sales and service experiences with high quality, excellent value, integrity, and enthusiasm. We offer the largest and most complete selection of new and used Ford cars, trucks, and SUVs in the area. Do business with us, and you will not only get the best pricing, but the reassurance that you are purchasing from an establishment founded on respect, integrity, teamwork, honesty, and trust. Visit us to check out fuel efficient Fords, like the F-150 Lightning, now!