Learn How to Use the SYNC 4 Screen in Your Ford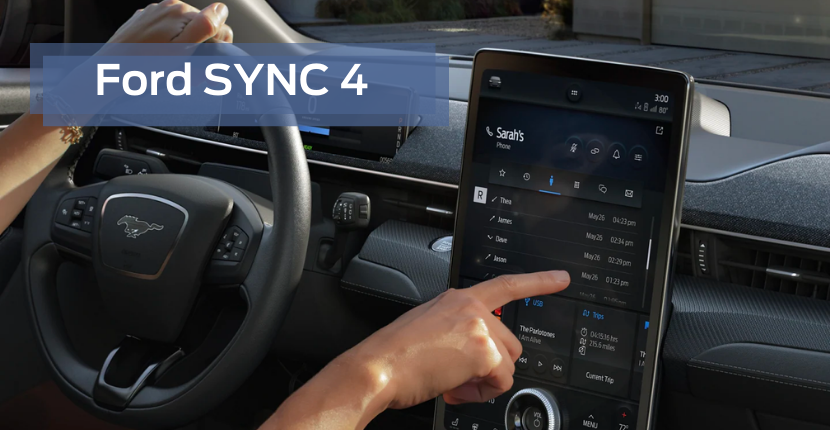 Never miss a moment with the all-new SYNC 4 Ford touch screen mobile display. Incredibly intelligent and adaptive, the SYNC 4 is the most advanced display ever put in a Ford vehicle. Complete with a crystal-clear screen, anywhere from 8 to 15.5 inches, the SYNC 4 puts a powerful computer right in the middle of your Ford vehicle. Now in the Ford Mustang Mach-E, the Ford F-150, the Ford Bronco, and the all-new Ford F-150 Lightning EV, the SYNC 4 has revolutionized the driver experience for Ford owners everywhere.
Never Miss a Moment
The SYNC 4 emphasizes seamless integration, keeping you in-the-know without any distractions. Voice control is a key feature of the SYNC 4, letting you change the music and make calls without the need for a button. The SYNC 4 is intuitive too, learning your preferences and common commands as you use it more.
SYNC 4 is also equipped with cloud-based connectivity, using the internet to continually improve itself through seamless software updates. SYNC 4's unique Connected Navigation system provides continuous information you as you drive, including weather information, construction zones, and even parking!
SYNC 4 strongly emphasizes wireless connectivity. Equipped with both Apple CarPlay and Android Auto, SYNC 4 works perfectly with whatever mobile device you choose! Use your phone to play your favorite music, navigate the roads, and make calls, all easier than ever.
Premium User Experience
The experts over at Ford have invested heavily in user experience, designing a slick and adaptive user interface. Split-screen capability is a feature on larger screens, giving you the ability to consume two sources of data at once. SYNC 4A also has a smart, card-based interface. As you use SYNC more and more, the system will automatically prioritize the information most important to you. And with a high-speed processor, SYNC 4 ensures a lag-free user experience.
See For Yourself
It's one thing to read about SYNC 4, it's another thing to see that gorgeous SYNC 4 screen for yourself. Come see for yourself at Lowell Ford! While you're here, check out the rest of the 2022 Ford lineup, including the all-new Ford F-150 Lightning. Here at Smith Ford of Lowell, we are excited for all of the amazing advancements that Ford has been developing for their vehicles. Finding us is easy, simply search for Smith Ford or a Ford dealer near me!