F-150 75th Anniversary Heritage Edition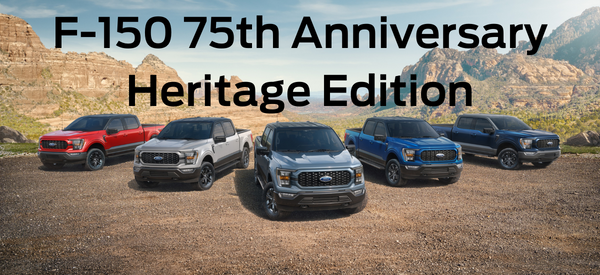 Recently, Ford Motors announced a new addition to the 2023 Ford lineup. To celebrate 75 years of F-Series trucks, Ford introduces the 2023 F-150 Heritage Edition. Its' a modern take on the timeless 1970s and '80s two-tone exterior paint offerings featuring the classic style combined with the outstanding durability, capability, and technology today's F-150 customers love. Check out more about the Heritage Edition of the F-150 now at Smith Ford of Lowell!
Heritage Edition Honors the F-150's History
Available on XLT series F-150 trucks, the design represents a fresh interpretation of the classic A-B-A exterior paint pattern, with an A color encompassing roof and pillars, a B color for the midsection, then A repeating on bumpers, lower door, and lower body.
Heritage Edition Interior 
Interior offerings in slate gray and black complement the expressive exteriors. Distinct seat trim covers featuring unique inserts, plus embossing on the console lid further enhance the uniqueness of the Heritage design. A white "75 Years" logo appears in the upper center windshield and is included in the center screen startup animation and on the center console.
Special Edition Color Options 
For the 2023 F-150 Heritage Edition, five color options are available: Race Red midsection, with upper and lower Carbonized Gray; Atlas Blue midsection, with upper and lower Agate Black; Antimatter Blue midsection, with upper and lower Carbonized Gray; Avalanche midsection, with upper and lower Agate Black; Area 51 midsection, with upper and lower Agate Black. 
Coming Soon! 
The 75th Anniversary Heritage Edition became available for order in mid-July, and it's expected to hit dealers after production starts this fall. 
Visit Smith Ford!
Looking for a Ford dealer near me? At Smith Lowell Ford,  we've got you covered. Check out our Ford Dealership Hours: we're open from 9 AM to 7 PM Monday through Thursday, 9 AM to 6 PM on Friday, and 9 AM through 4 PM on Saturday (closed on Sundays). Our mission is to earn our customer's loyalty by delivering sales and service experiences with high quality, excellent value, integrity, and enthusiasm. We offer the largest and most complete selection of new and used Ford cars, trucks, and SUVs in the area. Do business with us, and you will not only get the best pricing, but the reassurance that you are purchasing from an establishment founded on respect, integrity, teamwork, honesty, and trust. Visit us to learn more about and order your F-150 Heritage Edition now!