FAQ: Custom Ordering Your Ford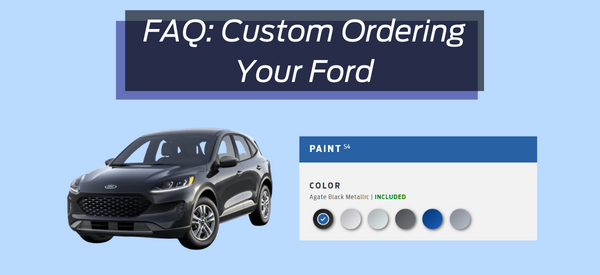 When it comes to placing a Ford custom order, there are bound to be many questions about the steps in this process. We have the Smith Ford General Manager, Chris Ofcky, here to answer some important questions for you when it comes to ordering a new Ford!
Q: If I order a custom Ford, how long should I expect to wait for it?
A: Most Ford orders are fulfilled in 2-4 months. However, there are build constraints on many models which may add to the delay in production. Buyers can help avoid these issues by ordering only what they require in a new vehicle. In short, the less equipped the vehicle is, the faster the delivery of the vehicle typically is. The chip shortage is widely known, but there are also supply chain issues with seat material, plastics, and even steel and/or aluminum in some cases. We at Smith Ford get regular supply and constraint updates from the manufacturer and are happy to guide the customer through the fastest order time possible.
Q: When I order, do I need to put a deposit down?
A: Yes, the amount varies depending on how the vehicle is ordered. The all-online reservation to order system requires a deposit of $100.00, or consumers may opt for a traditional ordering method which requires a $500.00 deposit. Some newer vehicle builds such as the Maverick, Bronco and F-150 Lightning are best ordered online, because a reservation, or "wait list" number must be acquired before the customer can convert their place in line into an order. For most other models, the customer can easily and conveniently use either method (in store, or online) to start the process.
Q: Are there any extra charges for ordering online?
A: There are no extra charges for ordering online; in fact, it's a more convenient and cost-effective way to do business. It only requires a $100 deposit and the customer may place the reservation or order outside of business hours. The cost-effective deposit is lower because less personnel time is required to place the order, and the customer can do it from the comfort of their own home.
Q: Will the price stay the same from when I order my vehicle to when I get it?
A: For 90% of the models, the answer is yes. From the order date, the customer is price protected, except extenuating circumstances on certain exotic vehicles (Shelby GT, for example). Ford price protects the customer until the vehicle is built. It is important to realize, however, that the price protection only starts on the day the order is put through – those with reservations may not be able to be protected by this mechanism until the order is placed and the vehicle is sent to be built.
Q: Could I start making payments on my Ford before I get the vehicle?
A: No. At this time, there is no way to allow for customer payments before they physically take possession of the vehicle, and the finance or buyer's contract is signed to signify ownership of the vehicle.
Q: Is my ordered vehicle eligible for Ford incentives?
A: Yes. In most cases, incentives can be "locked" when vehicles are ordered, and the customer can choose the better of the programs at purchase (the current month of purchase, or the previously "locked" rate).
Q: How many things can I actually customize when ordering a Ford?
A: Trucks typically allow for the most customization, but newer models such as the Bronco and Lightning offer a variety of adventure packages and aftermarket accessories which can be dealer-installed at the time of sale. There are in excess of 500 combinations of things on these newer models. Keep in mind, however, that some of these configurations may slow down your order – this is why it's always best to discuss things with your Salesperson before you order.
Q: If I don't want to order online, can I order over the phone or in person at Smith Ford?
A: Absolutely! Aside from just a handful of online-only reservation units, we will happily take and process your order here at Smith Ford; our goal is to make the entire process as easy as possible for you, and get you on the road in your new Ford as soon as we can!
Order From Smith Ford!
We hope this Q&A session was able to help clear up any questions you might have about custom ordering a Ford. If you have additional questions, contact us and we would love to answer them for you! Smith Ford of Lowell is your Northwest Indiana dealer and we are ready to place any custom orders for you!