Which Ford Models Have The Most Cargo Space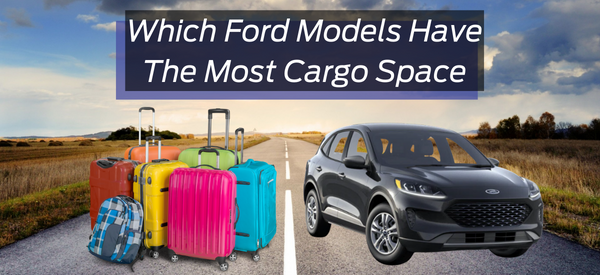 We know how important cargo space can be. If you're a weekend warrior with a lot to lug around, you need as much cargo space as possible in your vehicle. Maybe your kids have bulky sports equipment, or you need plenty of space for work materials. Ford has a great selection of roomy SUVs for you! While you might think the largest vehicle will provide the most dedicated cargo space, you might want to think again. New ford SUVS involve great trunk and cargo space. That's why we put together a list of Ford SUV with most cargo space. Check out these vehicles now at Smith Ford of Lowell!
How to Compare Cargo Volume
To give you the best sense of the roomiest SUV in the 2022 Ford lineup, we compared cubic yards of pure cargo space— not counting how much space there is for hauling with seats folded down or removed. This means you will probably have more room if passengers aren't filling your available seating space.
Ford SUVs with the Best Cargo Rooms
We came up with five great Ford SUVs that give you plenty of space for all of your things, whether it's work or sports equipment, luggage, or anything else.
Ford EcoSport: A compact SUV, the Ford EcoSport has an efficient, quick engine available with either front-wheel drive or four-wheel drive. It handles as nimbly as a car and offers just as much cargo volume. The EcoSport gets up to 29 miles per gallon and has a very affordable starting price.
Ford Edge: A midsize SUV, the Ford Edge has 39.2 cubic feet of cargo volume and seats five. It's available in three trim levels, and you choose between either front-wheel drive or all-wheel drive. The Edge gets up to 29 miles per gallon with a whopping 250 horsepower.
Ford Bronco: This fan-favorite is back and better than ever. With either the two-door or four-door Ford Bronco or Bronco Sport, you can expect to get 23.6 cubic feet or 36.7 cubic feet, respectively, of cargo volume. It seats five and keeps the body style reminiscent of the boxy, 90s-era utility vehicle. The Bronco comes in seven trim levels, so there's an option for everyone's needs.
Ford Expedition: Seating eight, the Ford Expedition has 20.9 cubic feet of cargo space. You can also upgrade to the Expedition Max for an additional 17 cubic feet. Considered one of the best SUVs in its class, it has a premium interior and achieves up to 23 miles per gallon, a feat for a vehicle of its size.
Ford Escape: A compact crossover, the Ford Escape provides 34.4 cubic feet of storage behind the hatchback. Although it has a small overall size, the cargo volume is impressive. The Escape seats five and is available in front-wheel, all-wheel, or four-wheel drive. You can also choose a turbocharged engine or the new plug-in hybrid.
Visit Smith Ford!
Looking for a Ford dealer near me? At Smith Lowell Ford, we've got you covered. Check out our Ford Dealership Hours: we're open from 9 AM to 7 PM Monday through Thursday, 9 AM to 6 PM on Friday, and 9 AM through 4 PM on Saturday (closed on Sundays). Our mission is to earn our customer's loyalty by delivering sales and service experiences with high quality, excellent value, integrity, and enthusiasm. We offer the largest and most complete selection of new and used Ford cars, trucks, and SUVs in the area. Do business with us, and you will not only get the best pricing, but the reassurance that you are purchasing from an establishment founded on respect, integrity, teamwork, honesty, and trust. Visit us to see the great cargo volume on Ford vehicles today!