What Car Can I Afford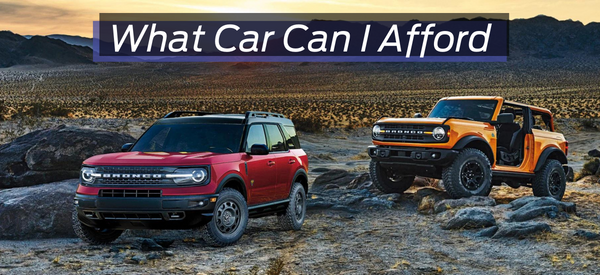 Are you getting ready to buy a new vehicle? If you're not sure what you can afford, we're here to help! Figuring out what car you can afford can be a complicated process. You'll want to think about the price you can afford, how much loan you can afford, and what monthly payment you can afford. We'll walk you through it. For more help with financing, visit Smith Ford of Lowell now! 
Figure Out What You Can Afford Beforehand 
It's a good idea to go into the car buying process with some key numbers so you can be prepared and focus your new car search. It's relatively easy to calculate out what you can afford. You'll want to first subtract your fixed expenses—like rent/mortgage, food, healthcare—from your total income. Whatever is left over is money that can be used for extra expenses, like buying a new car. 
What Car Can I Afford?
To figure out how much you can afford to spend on a new vehicle, you'll want to use the 20 percent rule. Financial experts use this rule to mean that your vehicle-related expenses shouldn't exceed 20 percent of your monthly take-home pay. For example, if you take home $2,500 each month, then you shouldn't spend more than about $500 on a car (including loan payment, gas, insurance, etc.). 
What Car Payment Can I Afford? 
With the 20 percent rule in hand, you can now determine how much you can afford for a monthly car payment. Your monthly payment will depend on how much you can save for a down payment. The more you put down on a car, the less you'll have to borrow, the less interest you'll pay over the loan's term, and the lower your monthly payment. 
If you don't need a new vehicle immediately, it would be a good idea to start saving according to the 20 percent rule first. Once you have a good portion saved up, you can learn about financing options at your preferred dealer to see what will be at or less than 20 percent of your monthly take-home pay. 
Smith Ford Finance Center 
Whether you choose a brand-new Ford model from our collection or one of our top-quality, used crossover, SUV or truck models, you can count on the team in our finance center to help you navigate the world of auto financing. We work with your specific needs and budget to find the payment plan you like, and we work with a number of financial institutions and banks throughout the Crown Point, Dyer and Crete area, to guide our customers to the perfect deal they can live with, every time.
Visit Smith Ford!
Looking for a Ford dealer near me? At Smith Lowell Ford,  we've got you covered. Check out our Ford Dealership Hours: we're open from 9 AM to 7 PM Monday through Thursday, 9 AM to 6 PM on Friday, and 9 AM through 4 PM on Saturday (closed on Sundays). Our mission is to earn our customer's loyalty by delivering sales and service experiences with high quality, excellent value, integrity, and enthusiasm. We offer the largest and most complete selection of new and used Ford cars, trucks, and SUVs in the area. Do business with us, and you will not only get the best pricing, but the reassurance that you are purchasing from an establishment founded on respect, integrity, teamwork, honesty, and trust. Visit us to learn more about calculating what you afford today!