Safely Driving in the Fall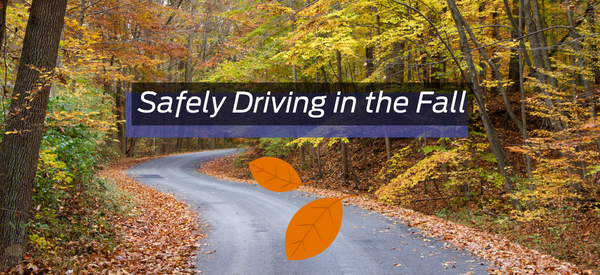 With the beautiful autumnal colors and cooler weather here, we're officially in the fall season. Changes in temperature, inclement weather are going to be more and more common. Driving under these conditions can threaten the safety of you and your passengers. That's why it's important to be safe while driving in the fall. At Smith Ford of Lowell, we want to help you stay safe, so we compiled some fall weather driving safety tips. You can also schedule your fall maintenance today!
Stock Your Vehicle with An Emergency Kit 
As the temperatures drop, it's important to keep your vehicle stocked with some emergency supplies just in case. For generally auto safety, you should have jumper cables, a flashlight, and some warning devices like flares and emergency markers. For personal safety, make sure to have blankets or extra clothing for protection from the cold, as well as a phone charger, water, food, and any necessary medicine.
Slow Down 
It's imperative that you decrease your speed during fall weather driving. Unlike normal road conditions, fall weather means the risk of slippery roads and darkness that you're not yet used to. Slowing down will help reduce the safety risks because it helps make up for reduced traction. It will also help to prevent your wheels from sliding on slippery surfaces. Speaking of sliding, you'll want to make sure you keep a safe distance between you and other vehicles. 
Don't Use Cruise Control 
Along with slowing down, avoiding the use of cruise control helps ensure safety on wet or dark roads. Using cruise control on slippery surfaces makes it much likelier that you'll lose control of your vehicle because cruise control slows down reaction time. It also doesn't have the human component that makes quickly adjusting to road conditions does. 
Keep Your Tank Full 
In general, people tend to use more gas in the colder months, but this is the most important time to keep your gas tank full. If you run out of gas, it's possible to end up stranded on the side of the road or in bumper-to-bumper traffic, which is dangerous with in low temperatures and low visibility conditions. If this happens, it's especially important that you stocked your vehicle with an emergency kit as mentioned above. As your tank nears the half full marker, fill it back up just in case. 
Schedule Fall Maintenance 
One of the easiest yet most important safe driving tips in fall is to get your vehicle serviced for the winter. Fall maintenance may include new wiper blades, refilling your car's fluids, or installing a cold weather car battery, among other things. No matter what you do, winter maintenance helps make sure your vehicle is safe to drive this fall. 
Visit Smith Ford!
Looking for a Ford dealer near me? At Smith Lowell Ford,  we've got you covered. Check out our Ford Dealership Hours: we're open from 9 AM to 7 PM Monday through Thursday, 9 AM to 6 PM on Friday, and 9 AM through 4 PM on Saturday (closed on Sundays). Our mission is to earn our customer's loyalty by delivering sales and service experiences with high quality, excellent value, integrity, and enthusiasm. We offer the largest and most complete selection of new and used Ford cars, trucks, and SUVs in the area. Do business with us, and you will not only get the best pricing, but the reassurance that you are purchasing from an establishment founded on respect, integrity, teamwork, honesty, and trust. Visit us to learn more about driving safety in the fall or fall maintenance!