Best Winter Tires for Ford F-150 Trucks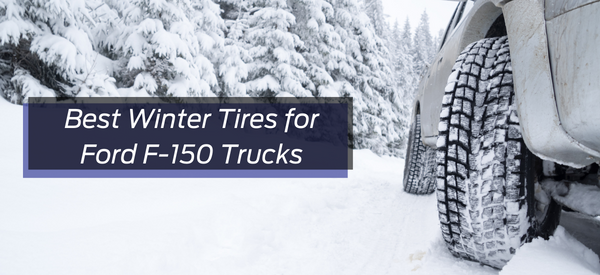 Winter brings snow, ice, and slush, which often combine to make roads more dangerous. Most drivers know it's important to get winter maintenance done on your vehicle, but do you know why winter tires are important? For Ford F-150s, there are several great winter tire options. Preparing your vehicle for snow and ice by equipping it with winter tires is one of the best things you can do to ensure safe winter driving during the cold months. Learn more about winter tires Ford now at Smith Ford of Lowell or visit our tire center to find tires now!
The Difference Winter Tires Make 
Wondering what the difference is between winter tires vs all season tires? In snowy and icy conditions, the best tires to have are winter tires. They are specially made for the unique weather conditions of the season, from snow to ice to sleet. With deeper grooves and irregular edges to optimize the tire's grip in snow, sleet, rain, and ice, the tread of snow tires is unique to the conditions it is made for. The rubber used for all-season tires is made for wet and dry conditions, meaning it will begin to stiffen and reduce traction in low temperatures. 
Safety Benefits of Winter Tires 
Winter tires enhance safety and handling with their special design. The rubber on winter tires is made to remain flexible and soft even in cold temperatures. Preventing your tires from stiffening up, this rubber allows for greater traction and control during the winter. They'll help avoid spinning on ice or sliding into a ditch. Visit Smith Ford for more great tips for driving in the snow! 
Winter Tires for Ford F-150 
Are you a Ford driver looking for the F-150 best tires? We've got you covered. Experts agree that the Firestone Winterforce LT tires are the best winter tires for the pickup. Firestone Winterforce LT tires are designed to dig in and provide traction in snowy conditions. These tires are studded, meaning they make a big difference for handling and control on ice. The Firestone Winterforce LT tires also perform well in rainy conditions. With all of these advantages, the Firestone Winterforce LT tires can keep you safe and in control during inclement weather this winter. 
Visit Smith Ford!
Looking for a Ford dealer near me? At Smith Lowell Ford,  we've got you covered. Check out our Ford Dealership Hours: we're open from 9 AM to 7 PM Monday through Thursday, 9 AM to 6 PM on Friday, and 9 AM through 4 PM on Saturday (closed on Sundays). Our mission is to earn our customer's loyalty by delivering sales and service experiences with high quality, excellent value, integrity, and enthusiasm. We offer the largest and most complete selection of new and used Ford cars, trucks, and SUVs in the area. Do business with us, and you will not only get the best pricing, but the reassurance that you are purchasing from an establishment founded on respect, integrity, teamwork, honesty, and trust. Visit us today to check out the best winter tires for your Ford vehicle!