Driving Your EV in the Winter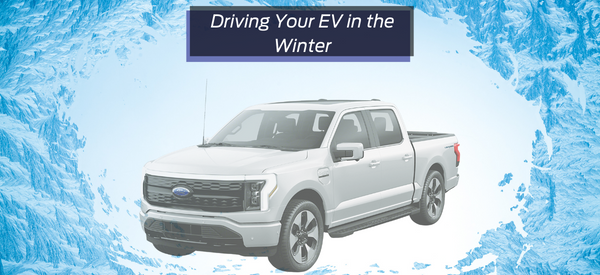 The winter months are an important time to consider how cold weather and icy conditions can affect your vehicle's operation. New electric vehicle owners should also be aware of how to take care while driving your EV in the winter. You also might be wondering how cold weather will affect your EV's battery or range. Visit Smith Ford of Lowell for more tips for driving in the snow with your EV! And if you're still looking for your EV or other ford, custom order today!
Warm Up Your Vehicle Before You Leave 
All electric vehicles experience a decrease in range during cold temperatures. To get ready for longer commutes during the winter, use your Ford preconditioning feature. ​​Preconditioning is a feature that lets you preheat or pre-cool your EV battery in winter and cabin with electricity from the power grid, instead of from your vehicle's battery. This helps your Ford EV work smart, not hard, to preserve range.
How to Use Ford Preconditioning 
To use Ford Preconditioning, set Departure Times when you're planning to go for a drive. This setting will adjust your vehicle to your preferred temperature immediately before the departure time you've chosen. You can create a Departure Time using the FordPass App or your in-vehicle SYNC screen.
If you're using the FordPass App:
Go to the Vehicle tab

Choose Departure Time

Select Add Departure Time

Adjust the time, day(s) of week and cabin temperature to your schedule and preferences

Select Add Departure Time
If you're using SYNC:
Go to Settings

Select Charge

Toggle on Departure and comfort and select the pencil icon

Adjust the time, day(s) of week and cabin temperature to your schedule and preferences

Save your settings
Keep Track of Range 
With colder temperatures during the winter, the extra time required to warm up your vehicle results in less time spent at the optimal temperature for fuel efficiency. This means that your engine is working harder than normal to power your vehicle, using more gas than normal. As a result, your vehicle's efficiency will probably decrease—whether it's an electric vehicle or gas engine. For this reason, we recommend that you should prioritize range and always be cognizant of your charge level during winter driving. 
Visit Smith Ford!
Looking for a Ford dealer near me? At Smith Lowell Ford,  we've got you covered. Check out our Ford Dealership Hours: we're open from 9 AM to 7 PM Monday through Thursday, 9 AM to 6 PM on Friday, and 9 AM through 4 PM on Saturday (closed on Sundays). Our mission is to earn our customer's loyalty by delivering sales and service experiences with high quality, excellent value, integrity, and enthusiasm. We offer the largest and most complete selection of new and used Ford cars, trucks, and SUVs in the area. Do business with us, and you will not only get the best pricing, but the reassurance that you are purchasing from an establishment founded on respect, integrity, teamwork, honesty, and trust. Visit us today to learn more about driving your F-150 Lightning in the cold!