See the Future of Ford at the Chicago Auto Show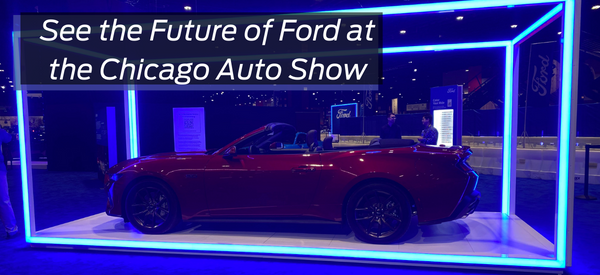 The Chicago Auto Show is back now! Returning to its regular ten-day February schedule, the Chicago Auto Show is taking place now until February 20th and featuring multiple world and North American introductions; a complete range of domestic and imported passenger cars and trucks; sport utility vehicles; and experimental or concept cars. Ford is here in full force, showing us all that they have to offer!
Technology & Customization
Ford brought stands with their Sync 4 screens so you can mess around with the interface of the screen available in the newest of Ford models. It's an amazing piece of technology that leaves the Sync 3 in the dust.
There is also a display showing just how many color options you have when ordering a vehicle or customizing your Ford. The colors are broken down by model making it very apparent what options you have!

Bronco: The Star of the Show
Ford brought so many Broncos! The whole family of Bronco variations is present, including the Bronco Everglades that was unveiled at this Auto Show last year. The Bronco mountain experience has also returned. Ride a Bronco through the obstacle course and experience how it handles scenarios that most vehicles can't!
Visit Smith Ford Afterwards!
Looking for a Ford dealer near me? At Smith Ford, we've got you covered. Check out our Ford Dealership Hours: we're open from 9 AM to 7 PM Monday through Thursday, 9 AM to 6 PM on Friday, and 9 AM through 4 PM on Saturday (closed on Sundays). After your visit to the Chicago Auto Show, visit us to check out our Ford inventory!