Ford Service Without Leaving Your Home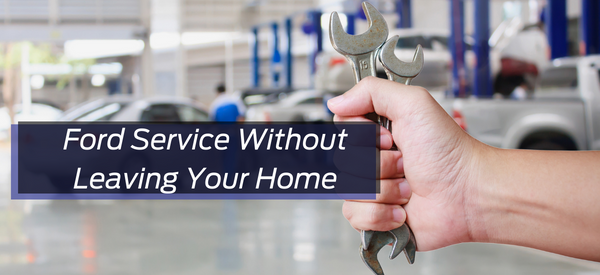 Exciting news was just announced by Ford! The American manufacturer is expanding Ford Pickup & Delivery. It's for when you need service—let your dealer pick up and return your vehicle. Ford Pickup & Delivery is part of You Mode. The convenience of owning a Ford. Made just for you. Learn more about how to get Ford Service without leaving your home now at Smith Ford of Lowell! 
Owners Mean the World to Ford 
There are a lot of reasons to love being a Ford owner. Ford Pickup & Delivery is one more. Just tell your dealer when and where you'd like to have your Ford picked up—home or work—and we'll come get it, service it at the dealership and return it to you.
Why Ford Pickup & Delivery Was Created 
Ford is committed to improve the ownership experience by providing convenient, seamless options for vehicle service, from simple oil changes to recall repairs. And the nationwide acceleration of Ford Pickup & Delivery is just another part of that commitment. The increasing access to remote experiences is fueled by positive sentiment, brand loyalty, and customer demand for more personalized service options. 
Complementary and Easy 
The next time you need service, your Ford dealer will make the round trip for you. No need to drive to or from the dealer for service. And it's totally free. Plus, scheduling service is now easier than ever. Simply find a participating dealer to schedule service. You can even schedule right in the FordPass App.
Service at Smith Ford 
At Smith Ford of Lowell, we are here for the lifetime of your vehicle. After our sales team has assisted you in the purchase of a new or used Ford vehicle, we remain committed to your satisfaction. We do this by offering service and maintenance on your vehicle with our highly qualified service technicians. We always offer various service specials to make your maintenance as affordable as possible! We are a Ford service center you can trust to take care of your vehicle's needs for as long as you own it. Our technicians are part of a network of over 35,000 factory trained Ford technicians across America. They were trained by Ford, so they know every Ford vehicle inside and out. Schedule your full service auto repair with Ford Service Near Me now! 
Visit Smith Ford!
Looking for a Ford dealer near me? At Smith Lowell Ford,  we've got you covered. Check out our Ford Dealership Hours: we're open from 9 AM to 7 PM Monday through Thursday, 9 AM to 6 PM on Friday, and 9 AM through 4 PM on Saturday (closed on Sundays). Our mission is to earn our customer's loyalty by delivering sales and service experiences with high quality, excellent value, integrity, and enthusiasm. We offer the largest and most complete selection of new and used Ford cars, trucks, and SUVs in the area. Do business with us, and you will not only get the best pricing, but the reassurance that you are purchasing from an establishment founded on respect, integrity, teamwork, honesty, and trust. Visit us to check out Ford Pickup & Delivery now!