Deck Out Your F-150 With Ford Accessories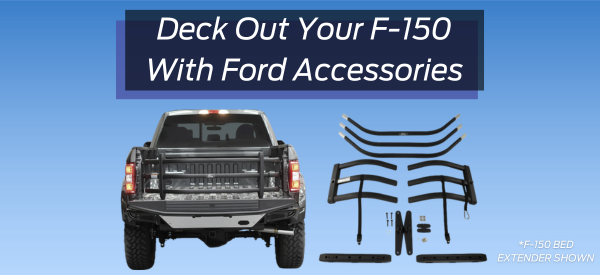 Go ahead and get wild with Ford accessories! Since its inception in 1948, the Ford F-150 has positioned itself as one of the most popular vehicles of all time. This tough, lightweight, full-size truck generally has a 1,000-pound payload capacity, allowing utility in a variety of settings. 
What makes the F-150 stand out among other truck options is its ability to be customized and set up for different daily uses. F-150 owners have the option to put in seat covers for muddy excursions or install truck bed lights for late-night driving and off-roading. This truck takes your work and recreational activities to the next level with its ability to accessorize according to your needs. Stop by Smith Ford of Lowell to check out how Ford accessories can enhance your F-150 today! 
Best F-150 Accessories 
All-Weather Floor Mats

: While it can be fun to dirty up the outside of your vehicle, it's important to keep the inside as clean as possible. Using floor mats is just one option to keep your car's interior looking clean. Floor mats are intended to keep the carpeted areas of your vehicle's floors clean, and when you get a Ford floor mat, it is designed to perfectly fit your vehicle. All-weather floor mats prevent substances like dirt, grease, and even moisture from sinking in and damaging the carpet. Floor mats can be installed and removed as needed for ease of cleaning. 
Seat Covers

: Similar to floor mats, seat covers are one of the best F-150 interior accessories. They're designed to keep your interior clean, one seat at a time! Whether you're on a road trip, going off-roading, or just on your daily commute, you may encounter situations that cause you to get wet, muddy, or even sandy. Vehicle interiors can be expensive, so they should be protected from any outdoor elements that get brought in. Seat covers catch all these materials and substances, preventing them from soaking into your seats. They are also simple to remove and machine wash at home for easy cleaning.
Pivot Storage Box (R/L)

: It's typical for drivers to store their tools or other important supplies in the back of their truck bed. However, this can leave your necessary items scattered and disorganized, especially if your pickup truck hits a bump in the road or is traveling at a high speed. Keep tools and other gear in one secured place by using a truck bed storage box. Our storage box fits between the wheel well and the back of your bed and pivots, allowing more access to the rest of your bed. This easy-to-install storage box is made of high-impact plastic for durable and weather-resistant protection for any project or adventure.
Truck Bed Lights

: These are one of the top F-150 truck bed accessories. It can be difficult to see into your truck bed at night or when using a tonneau cover, and using a flashlight can be difficult when trying to grab items out of the bed. To solve visibility problems, we recommend using an illumination kit for all your nighttime lighting needs. These LED light pods to provide bright, long-lasting coverage of your bed so you can work all through the night if needed. 
Order from Smith Ford! 
Looking for a Ford dealer near me? At Smith Lowell Ford,  we've got you covered. Check out our Ford Dealership Hours: we're open from 9 AM to 7 PM Monday through Thursday, 9 AM to 6 PM on Friday, and 9 AM through 4 PM on Saturday (closed on Sundays). Our mission is to earn our customer's loyalty by delivering sales and service experiences with high quality, excellent value, integrity, and enthusiasm. We offer the largest and most complete selection of new and used Ford cars, trucks, and SUVs in the area. Do business with us, and you will not only get the best pricing, but the reassurance that you are purchasing from an establishment founded on respect, integrity, teamwork, honesty, and trust. Order your Ford F-150 accessories today!