What is the Difference Between the F-150, Maverick, and Ranger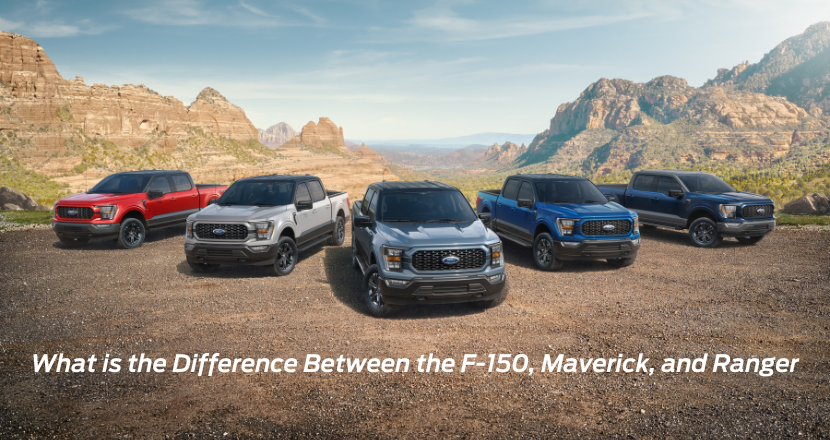 The family of Ford trucks is built Ford tough. It's synonymous with the rugged capability, outstanding performance, and dependability of Ford trucks. Whether it's hauling a big load or getting you to a job site, count on the lineup of versatile, hardworking Ford trucks to work overtime and get the job done. Check out our guide to the Ford trucks line-up below! And stop into Smith Ford Lowell to check out each pickup for yourself! 
Ford Ranger 
The 2023 Ford Ranger pickup is backed by decades of adventures. Its impressive payload and 2.3L EcoBoost engine mean you can go practically anywhere and do just about anything with confidence. Plus, it offers excellent fuel economy at an EPA-estimated 21 mpg city/26 mpg highway. And it's all yours for just $27,400. 
Ford F-150 
Since its inception in 1948, the Ford F-150 has positioned itself as one of the most popular vehicles of all time. This tough, lightweight, full-size truck generally has a 1,000-pound payload capacity, allowing utility in a variety of settings. It's not just one thing that makes a great truck, it's a combination of features that make your truck great. From powerful engines to smart technology, there's an F-150 pickup to fit all aspects of your life. And the 2023 Ford F-150 starts at just $34,445. Find your Ford F-150 for sale near me now at Smith Ford! 
Ford Maverick 
Flexible, fun, and capable, the 2023 Ford Maverick is the first ever standard full hybrid truck in America. Whether you want to cruise city streets or haul your boat to the beach, this is a pickup that can pick up and go. A compact pickup truck, the Ford Maverick provides many of a full-size pickup's power and towing capabilities. Even more, it features better handling and maneuverability at a much more affordable price. Available in 4 trim levels, including the XL, XLT, Lariat, and the Lariat First Edition, the 2023 Maverick has a starting MSRP of $22,595. 
Visit Smith Ford!
Looking for a Ford dealer near me? At Smith Lowell Ford,  we've got you covered. Check out our Ford Dealership Hours: we're open from 9 AM to 7 PM Monday through Thursday, 9 AM to 6 PM on Friday, and 9 AM through 4 PM on Saturday (closed on Sundays). Our mission is to earn our customer's loyalty by delivering sales and service experiences with high quality, excellent value, integrity, and enthusiasm. We offer the largest and most complete selection of new and used Ford cars, trucks, and SUVs in the area. Do business with us, and you will not only get the best pricing, but the reassurance that you are purchasing from an establishment founded on respect, integrity, teamwork, honesty, and trust. Visit us to test drive the Ford F-150, Maverick, and Ranger today!